As a resident or visitor to Alberta, you're in for a treat if you're a food lover. Alberta is renowned for its agricultural prowess, and this is reflected in the variety and quality of food available in its farmers markets. Here's a comprehensive guide to exploring Alberta's bountiful farmers markets.
Calgary Farmers' Market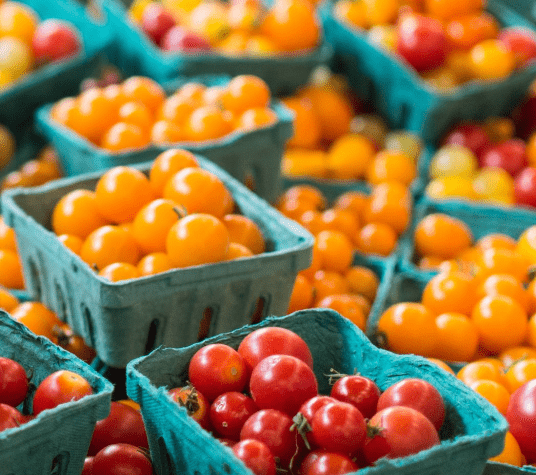 Calgary Farmers' Market is a vibrant year-round market located in the historic Currie Barracks, just a few minutes from downtown Calgary. With over 80 vendors, visitors can find a wide variety of fresh and locally sourced products.
Fresh Fruits and Vegetables: Local farmers bring their seasonal produce to the market, ensuring visitors can find the freshest options, including organic produce.
Artisanal Cheeses and Meats: The market is also home to vendors selling high-quality cheese and meat, sourced from local farmers.
Baked Goods and Gourmet Treats: There are numerous vendors selling freshly baked bread, pastries, and gluten-free options. You'll also find gourmet treats like olive oils, specialty vinegars, and handcrafted chocolates.
Unique Shopping Experience: The market is housed in a spacious indoor facility that is open year-round. Vendors offer samples of their products, making it a great place to shop and socialize.
Strathcona Market: A Foodie's Paradise
If you're looking for a bustling and vibrant farmers market, Strathcona Market is the place to be. Located in the heart of Old Strathcona, this market has been operating since 1893 and has become a foodie's paradise. It's open every Saturday year-round, and it offers an incredible variety of food, crafts, and other goodies.
One of the unique features of Strathcona Market is the diversity of food available. You'll find everything from freshly baked bread, to homemade jams, to locally sourced honey. The market also has an impressive selection of ethnic food, including Korean, Indian, and Middle Eastern cuisine.
If you're looking for fresh produce, Strathcona Market won't disappoint. You'll find everything from organic fruits and vegetables to heirloom tomatoes and wild mushrooms. And if you're not sure what to buy, the knowledgeable vendors are always happy to give you some recommendations.
Strathcona Market is also famous for its selection of crafts and artisanal products. From handcrafted pottery to handmade soaps and jewelry, you'll find a range of unique items that make for perfect gifts or souvenirs.
Sylvan Lake Farmers' Market
Located in the charming town of Sylvan Lake, this farmers market is open on Fridays from June to September. Visitors can find a variety of fresh produce, meats, honey, baked goods, and handmade crafts sourced from local producers. The market also features live music and entertainment, making it a great place to spend a summer evening.
Fresh Fruits and Vegetables: The market offers a wide range of seasonal produce, ensuring visitors can find the freshest and most delicious options.
Meats and Honey: Local producers provide high-quality meats and honey, offering a taste of the region's agricultural heritage.
Baked Goods and Handmade Crafts: Visitors can find freshly baked bread, pastries, and cookies, as well as a variety of handmade crafts like jewelry and pottery.
Live Music and Entertainment: Local musicians and performers entertain visitors, making it a great place to unwind and enjoy the local culture.
Edmonton City Market
Edmonton City Market, also known as "The Market," has been a staple in the city since 1900. It was originally located on Rice Howard Way before moving to its current location on 104 Street in 2004. The market has evolved over the years to become a vibrant hub of local food, artisanal crafts, and community engagement.
Edmonton City Market is open year-round on Saturdays from 9 am to 3 pm, and on Sundays from 11 am to 3 pm. The market hosts over 130 vendors, including farmers, bakers, butchers, and artisans. The market has a diverse range of products, from fresh produce and meats to handmade soaps and jewelry.
The Market's Unique Features and Characteristics
One of the unique features of Edmonton City Market is its diverse range of vendors. The market has something for everyone, whether you're looking for fresh produce, artisanal bread, or handmade crafts. The market also hosts live music and special events throughout the year, making it a fun and lively place to visit.
Edmonton City Market has a wide variety of products available, including fresh fruits and vegetables, meat and poultry, baked goods, and prepared foods. The market's most popular vendors include The Jam Lady, who sells homemade jams and jellies, and Steve & Dan's Fresh BC Fruit, who offer a range of fresh fruit from the Okanagan Valley.
Edmonton City Market prides itself on its high-quality, locally sourced products. While prices may be slightly higher than other markets in the area, the quality of the products is unmatched. The market also offers a range of products that are not available at other markets, making it a unique shopping experience.
Visitor Information
Edmonton City Market is located in the heart of downtown Edmonton on 104 Street, between Jasper and 102 Avenues. The market is easily accessible by public transportation and has several parking options nearby, including the Library Parkade and street parking. Visitors can expect a lively and bustling atmosphere, with a diverse range of vendors and products to explore.
Whyte Avenue Farmers Market
Whyte Avenue Farmers Market has been a fixture in the Old Strathcona neighborhood since 2005. It is open seasonally on Saturdays from 10 am to 4 pm, and on Sundays from 10 am to 4 pm. The market is home to over 100 vendors, offering a diverse range of products and goods.
Whyte Avenue Farmers Market is known for its focus on handmade crafts and artisanal goods. The market has a range of products, including jewelry, clothing, and artwork, as well as fresh produce and baked goods.
Unique Features and Characteristics
One of the unique features of Whyte Avenue Farmers Market is its focus on supporting local artisans and small businesses. The market offers a platform for local artists and makers to showcase their products, helping to build a vibrant and diverse community.
Downtown Edmonton Map and Parking
Navigating downtown Edmonton can be challenging for visitors, especially when it comes to parking. Having a good understanding of the downtown map and parking options can help make the experience more enjoyable and stress-free.
Downtown Edmonton has several parking options, including street parking, surface lots, and parkades. Street parking is available throughout the downtown core, but can be limited and is often subject to time limits. Surface lots offer more space and longer-term parking options, while parkades are multi-level parking structures located throughout the city.
City Hall Edmonton
If you have some extra time while exploring the City Market, take a short walk to the City Hall in Edmonton. This iconic building serves as the home of the municipal government and is a beautiful example of modernist architecture. The City Hall plaza is a gathering place for people of all ages, with plenty of benches and green space to relax and enjoy the sights and sounds of the city.
Edmonton City Hall is an iconic building in the city's downtown core. It was built in 1992 and is home to the offices of the mayor and city council. The building has a unique and modern design, with a striking pyramidal roof and a grand atrium.
Edmonton City Hall is one of the city's most recognizable buildings. It is also a popular venue for weddings, conferences, and other events. The building's atrium features a large fountain and several art installations, making it a popular spot for photos.
Overview of City Hall's Role in the Community
Edmonton City Hall plays an important role in the community, serving as the center of municipal government and a hub for civic engagement. The building is open to the public, with several spaces available for events and meetings. The city council also holds regular meetings in the building, giving residents the opportunity to voice their opinions and concerns.
Tips for Enjoying Farmers Markets in Alberta

When visiting farmers markets in Alberta, here are some tips to keep in mind:
Come early: Farmers markets can get busy, so it's best to arrive early to avoid the crowds and get the best selection of food and products.
Bring cash: Many vendors at farmers markets only accept cash, so be sure to bring some with you.
Don't be afraid to haggle: While not all vendors will be open to negotiation, some may be willing to offer discounts if you buy in bulk or buy something towards the end of the day.
Bring your own bags: Not only is bringing your bags better for the environment, but it also makes it easier to carry your purchases.
Try something new. One of the great things about farmers markets is the opportunity to try new foods and flavors. Don't be afraid to try something you've never had before, whether it's a new type of cheese, a unique fruit, or a different type of bread. You might discover a new favorite food or ingredient.
Talk to the vendors: Farmers markets are a great way to connect with local producers and growers. Don't be afraid to strike up a conversation with the vendors, ask questions about their products, and learn more about where your food comes from.
Bring a cooler: If you're planning on buying perishable items like meat or cheese, it's a good idea to bring a cooler with ice packs to keep them fresh on the way home.
Check the market's website: Before heading to the market, check their website for information on hours, vendors, and special events. Some markets have live music or cooking demonstrations that you won't want to miss.
Support local: By shopping at farmers markets, you're supporting local farmers, artisans, and small businesses. Not only are you getting high-quality products, but you're also helping to sustain the local economy.