List of Buskers
---
City Market Downtown Buskers on 104th
May 20 – October 7, 2017
A-B Duo
The A-B Duo is a local musical duo made up of two Grant MacEwan jazz program students. You can contact themvia email at good.information.band@gmail.com.
The Adje Performers are an Edmonton based drum and dance group focused on creating West African music and rhythms. Their goal as a performance group is to create high quality music and dance movements and put on a great show! Their group features rhythms created by the djembe, bass drums and vocals, and their dancers move with high energy and enthusiasm!
Armando Otavalo serenades City Market Downtown with the traditional Daky Flute instrument.
Balloon Artist Russ takes the classic balloon animal and applies new twisting techniques and ideas to produce some of the coolest trends in the balloon industry. The unforgettable memories of balloon fun will last a lifetime!
Benjamin Williams is a musician, singer-songwriter and producer from Edmonton, Alberta whose unique and buoyant zest has quickly established him as one to watch in the local music scene. At the age of 16, he possesses an unmatched ability to captivate you with his outrageously charming personality and musical prowess, whether performing at concert halls, coffee shops, festivals, charity events or busking.
Simon is a caricaturist who's previous clients include Bioware, Microsoft Edmonton, The City of Edmonton and  Shaw. He can personalize your caricature to whatever you want, from lightsaber battle or a Shrek character dance-off!
Clinton is a local live performer and loop musician in the Edmonton area. Music is a large part of his life and he has been involved in playing different instruments and singing for the past 9 years. Clinton plays instruments like piano, bass, drums, and guitar, but he is most renowned for his unique looping technique!  Clinton is able to loop his instruments and vocals during one song, making the performance sound like an entire band, rather than just a solo performer.  
Damien Armstrong
Damien Armstrong is an Australian guitar player and singer of Classical Rock music.
After calling Calgary home for eighteen years, Deighton now resides in Edmonton, Alberta for eight months out of the year as a drama major at the University of Alberta. Up north, she spends her time studying theatre, writing songs, and performing at open mics and venues in Edmonton like The Druid, and the Skirts A Fire festival for the Key of She.
David Unsworth is a 20-year-old singer-songwriter based out of Edmonton, Alberta. He combines intricate lyricism with rhythmic guitar, soaring vocals and a loop station to create personal, thought provoking songs, while still giving listeners a reason to dance.
Caitlin Clark, the Dragon Paw Lady, is a face painter and tattoo artist.  She works with Kryolan, Wolfe, and Paradise by Mehron facepaints, all of which are dermatologist tested and approved.
5 Element Drums and Lion Dance Crew
Their style consists of a mix of traditional and modern lion dancing. Their specialty is lion expression and realisim, where the lion looks "alive," not "two people in a costume. 
Her voice is powerful and her vulnerability rare, and she hopes to inspire those who are on the same path. Erin's voice has been likened to  "honey and tabasco, swirled in a cloud of smoke".
Hamish Noel is a Pannist (steelpan drum musician). Steelpans (also known as steel drums or pans) is a musical instrumental originating from Trinidad and Tobago.
Henna Art
The use of Henna for body art is several centuries old at least. It is a time honored tradition among various cultures of the world. The intricate designs can symbolize passages of life and are also be applied simply for their beauty.
John Calverley (BMus.) is an active freelance violinist, composer, improviser, session musician and instructor. As music director for Vinok Worldance he has had the opportunity to explore diverse styles of traditional music from various cultures.
Julie offers a variety of colourful designs to choose from for the young and young-at-heart!
Kyler Schogen's guitar based, feel good music, consists of catchy, bluesy, melodic rock. Their dynamic live shows are all about flowing grooves and heartfelt deliveries.
La Statue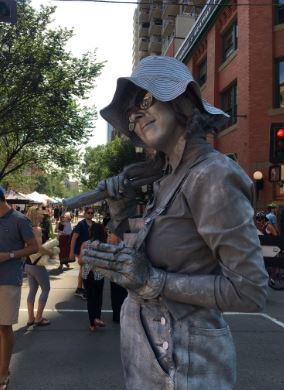 La Statue is a living statue of the Sunny Girl – the official symbol of the Alberta Approved Farmers' Markets! You might mistake her for a statue, but as soon as you drop a coin into her watering can she comes alive!
Storvold has a background as a spoken word poet, and a degree in Literature and Philosophy, allowing for striking nuance and depth in her lyrics. With that poignant lyricism, as well as emotive finger picking, and a honeyed, impassioned voice, Storvold's music seeks to tell us a story, to move us, and to touch a fragile part of the human spirit.
Raynne is an indie folk rock artist currently working on songs in the studio. She is currently working on distributing her music, and is also busking at local markets.
With a penchant for belting it out and telling it like it is, VISSIA [VISS-ee-yuh] lets her prairie upbringing and no-nonsense attitude come through in her skillful, honest songwriting and powerful voice.